A number of 86/FRS/BRZ owners were at the NCRC track day at Laguna Seca last weekend, including yours truly.  What a fantastic day out on the track.  This is my second time at this track, but the last time was over 10 years ago in my MR2!  So I fired up the PS3 and got some virtual practice in before the big day.  Don't laugh, GT5 was very helpful for reacquainting myself with the course layout beforehand. Also nice to be able to virtually drive a BRZ and see where the gearing will put you and where you will probably have to shift. Exploring these little details beforehand means you don't have to think about it as much the day of the event.  Certainly there are plenty of things to think about as it is.
Setup.  My Subaru BRZ is mostly stock, but with a few things done to improve its track reliability and driving feel.  The main priority being mild braking upgrades.  Brake fluid was flushed with Motul RBF660 and front pads were replaced with Carbotech XP8s.  I also have a GrimmSpeed master cylinder brace installed to help firm up the brake pedal feel.  Running the OEM Michelin tires with OEM suspension, but factory camber bolts installed in front and ghetto-aligned to achieve max negative camber.  When I arrived at the track I set all tires to 36 PSI.  A Berk catless front-pipe which maybe gives a few more HP.  A heavier Moddiction shift knob to help with shifting.  The OEM wheels are plastidipped flat black for looks only.  I was curious to see how the plastidip would hold up to the track day, there have been plenty of warnings that it could not handle extreme heat from the brakes.
Driving.  I ran in Solo and it was a good albeit fairly large group. Everything generally went well and I gradually picked up speed with each session.  First session, I switched VSC to Sport Mode but drove conservatively.  That first session, I was waving cars by left and right, there were everything from Porsche 911s to Miatas to VW GTIs passing me up.  My priority was to get familiar with the track, not show everyone how fast I can crash into a wall or get stuck in the gravel.  No major issues with the car and the Carbotech XP8 pads did great.  Second session, I started to pick up the pace.  I turned all VSC and traction control off and was very pleased to see that grip and handling were all very predictable, no surprises there.  It wasn't like the car suddenly turned into a sliding monster once you turned the electronic nannies off, the car just does what you ask it to do without any intervention.  The second session got cut short when someone had a major off-track spin, so I went back into the paddock early.  The organizers were actually nice enough to give us a makeup session during the lunch hour.  I quickly wolfed down a sandwich I brought and was glad I brought a few bottles of water with me to the track.  They were charging $3 for a bottle of water at the vending machines and café.
As a "intermediate beginner" I think I quickly realized that I shouldn't bother downshifting in most spots, and just concentrate on the racing line, braking points, and appropriate corner entry speeds. This sentiment was repeated by one of the organizers who led our "download session" after the first session.  Most of the course can be taken in 3rd or 4th gear, with maybe 2 corners that are slow enough to warrant 2nd gear. As I had mentioned before, I already sort of figured this out from my GT5 practice.  One thing GT5 (or any virtual simulator) can't impress on you though, is the elevation changes you'll encounter at Laguna. Everyone remembers their first time dropping through the Corkscrew for a long time.  Someone in the drivers' meeting mentioned that it is a three-story drop in elevation.  Being a high-speed track with fairly significant climbs and descents, it is a horsepower track and with a stock-powered BRZ you definitely feel like you could use some more power on the climbs.  It's a little frustrating to see the other cars with more power leave you behind on the straights and ascents.  The BRZ keeps up with anything else just fine in the corners though.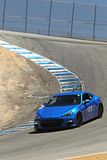 As the day went on, I continued to pick up the pace, carrying more speed in the corners and trying to use the full width of the track.  I was starting to late brake and was definitely outbraking many others in the group, but there was no brake fade and everything was very predictable and consistent.  The OEM tires, which everyone seems to hate so much, seemed to be doing right by me.  When I came off the track while they were still hot I checked and bled them back down to about 38PSI.  Maybe I am not a fast enough driver to require stickier tires, or maybe I was just having too much fun with the car right out of the box.  I guess when everyone else on the track is outcornering you and the tires are what hold you back, then you will want better tires.  In my beginners group I was certainly out-horsepowered but I don't think I ever found myself being outcornered.  That is more a factor of driver skill/confidence than mechanical grip at this relatively low level though.  In any event, for the time being I don't see a compelling reason to go out and spend more money on tires until I wear the stock ones down some more or do several more track days to get more experience.
Overall the car was very reliable and I had no issues on track.  One weird thing, after one session I came in and when I came back to my spot and stopped, the engine seemed to be shuddering a little, more vibration than normal.  It would pick up a few hundred RPM and then back down.  I turned it off and opened the hood to let it cool… when I restarted for next session back to normal, the shuddering did not come back after any other sessions.  Possible theories would be either oil level or heat, but I did check the oil after that session and everything seemed fine.  I did not have any OBD2 readers to help determine oil temp.  Perhaps I will invest in one soon.
What I do have is an iPhone 5 with Harry's Lap Timer for basic datalogging.  It measures lateral and lineal G's and also uses GPS to determine location and speed around the course.  It's a very basic setup but it does allow me to see with a fair amount of precision what my lap times are.
Since this is only my 2nd time at Laguna I set a modest goal for myself of a 2:00 lap and I just barely made it with one lap at 2:00.87 in the last session.  I was pretty happy with that, for sure I can go faster but that was good enough for me as a second time at this track.  I did get a little careless/redmisted at the very end and dropped 2 wheels off at the exit of turn 6 shortly after passing a Miata in the uphill portion.  Kicked up some dust but no damage and didn't even get a black flag, well it was the last lap of the day.  😉
Oh one more thing — I also got to ride along in the Robispec twin-screw supercharged FRS that was also at the track that day.  Very impressive and held up to full-attack track duty very well with no heating issues.  If his engine continues to hold together at track events, this Innovative SC might be the one to save up for, it seems very well sorted.  Robi obviously is a much better driver than I, and in a car that is both faster and set up to handle much better than mine, you can imagine riding along with him was an eye-opening experience.  And the scream of the supercharger in that car is just an amazing sensation.  Thank you so much Robi for being such a gracious guy and letting me have a ride, just our limited time together talking about our cars and driving was great too.  Robi actually recorded our laps with his GoPro video camera, check this out!
I did record some in-car video myself as well, I will try to post that up soon as well.  To see even more photos from the day, visit my Photobucket gallery:
Anyways this track day has only whet my appetite for more driving, both on and off the track!  Stay tuned for more driving adventures to come!
p.s.  I have some of my track videos up on Youtube!  Check them out!

Lap #11: 2:05.65


Lap #27: 2:05.69


Passing and getting passed (no timing)


-p.